GENERAL
RaisingAds is a Revenue Share program. Our funds from the Revenue Share sales pool are distributed between all the participants of the program.
The profits generated to pay our members, are made from our trading activities.
To participate and earn from our Revenue Share pool, you must register and purchase AdPack Shares.
Your AdPacks will earn a percentage every 30 minutes.
The amount you earn depends of which AdPack Plan you choose to purchase.
By purchasing AdPack Shares, you are also purchasing different types of advertisements, which you can use it to advertise your favorite affiliate program and websites.

RaisingAds CEO: Benjamin L
You can start making money with RaisingAds by purchasing AdPack Shares. You can increase your daily income by purchasing more AdPacks (compounding) , as many AdPacks as you wish. You can buy AdPack Shares here after adding funds to your account.
A great income can also be made from Commission. You earn up to 12% Referral Commission. Just promote your referral Link.
You can also earn an extra cash when you click on our PTC links. This feature is only available to our paid members. You can become a paid member by purchasing AdPack Shares. You earn 1 cent to visit a website for 60 seconds.
Yes! We accept people from all over the world.
Yes you do earn 10% commission from Level 1 referrals , and 2% Commission from Level 2
Absolutely! You can earn by inviting others to RaisingAds, using your referral link located in your member area. However, you need to have at least 1 active AdPack in order to withdraw your commission.
ADDING FUNDS
The minimum add fund /deposit is $5. Simply click on "ADD FUNDS" to add funds to your account, so you can buy AdPack Shares. Below are the instructions to Add Funds using Bitcoin:
NEXT PAGE:
You don't need to have an account with Coinpayments. Simply fill out the form with your name and email, select coin, and complete the payment as it shows in the image below.
NEXT PAGE:
The system will take you to the page below. Login to your bitcoin wallet and send the payment.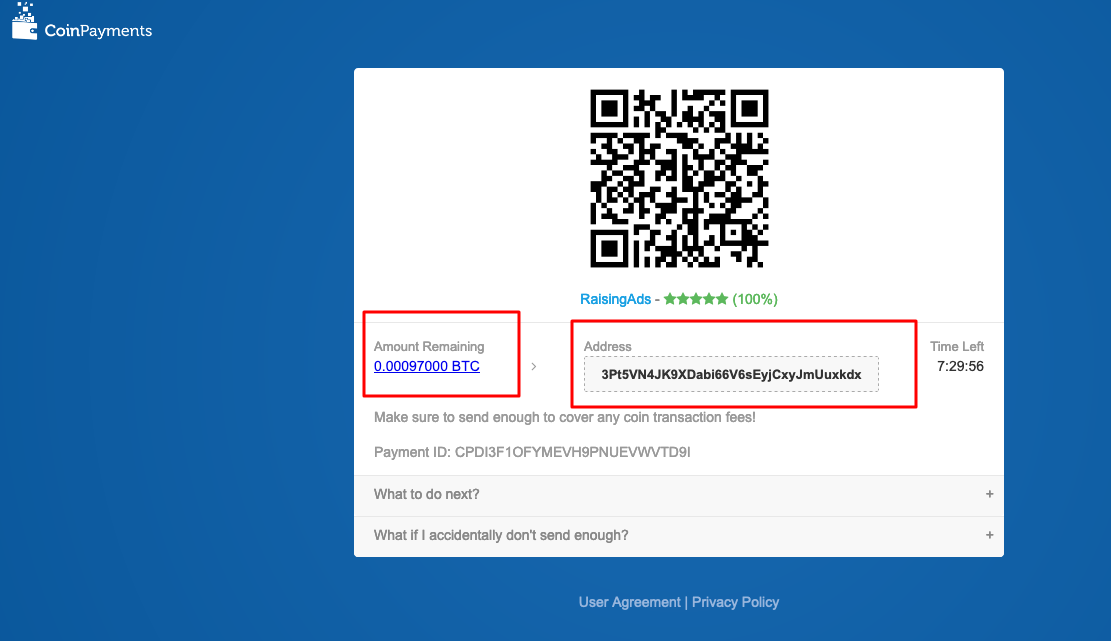 In order to deposit, you must have an account with one of our accepted processors: Bitcoin, PerfectMoney, Ethereum, Payeer
There is no fee to Add Funds to your RaisingAds account.
WITHDRAWALS
The minimum withdrawal is $5
There is no withdrawal fee
Results Per Page :